2018 Annual Appeal Letter
PVL's Annual Appeal letter has been mailed.  Please consider a donation to the library. All funds received stay in Schwenksville and are used to maintain and improve the building (a new roof was completed in June 2018).  Funds are also used to support the library's programming (check out the Events page for a sampling of programs)    Click here for a copy of the letter.
Giving Tuesday 2018 
The Library brings joy to our community all year long.  This holiday season, help us share the joy by contributing to our #GivingTuesday campaign! Now through November 27, 2018.
To donate scan this QR code: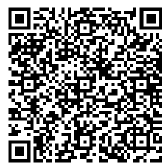 Or click here:  JustGiving.com
JustGiving.com is underwritten by corporate sponsors, and provides secure online opportunities for people to contribute to their favorite charities via credit cards. A 5% processing fee is deducted from your gift to cover credit card processing fees. For example, if you were to contribute $10, the library would receive a donation of $9.50.
The following represents the Statement of Values held by JustGiving.com: "Our goal is to connect you with the charities that you care about in the most convenient, secure manner possible."
We never sell, share, or disclose donor information.

Donors have the option of making anonymous donations, so their names are never passed on without their permission.

Our credit card processing company, Wells Fargo Bank is not authorized to retain, share, store, or use your personal information.

We are committed to providing the best service possible and always welcome feedback, questions, and comments.

All donations made through JustGiving.com are tax-deductible (except in certain cases when goods or services are involved).
BOOK DONATIONS

ARE ACCEPTED DURING LIBRARY HOURS
Perkiomen Valley Library Used Material Donation Guidelines
The Perkiomen Valley Library accepts donations of gently used hardcover and paperback books for both children and adults. We also accept DVDs, audio books and compact discs.  The library cannot accept newspapers, magazines, textbooks, encyclopedias, Reader's Digest Condensed books, or items in need of repair.  Donated items may be placed in the library's collection or used in book sales.
Donations can be brought to the library during the library's open hours. We request that your donations be brought to the building in sturdy boxes.  Books are accepted downstairs and only during open hours.   Do not place donations in the blue book drop in front of the library.
A receipt for tax purposes is available upon request.
Please call the Library at 610-287-8360 if you have any questions.  For large donations, please speak with Aileen Johnson, Branch Manager.
Adopt-a-Book
1) Click here and print out the form.
2) Fill in all the need information.
3) Mail the form and a check to Montgomery County – Norristown Public Library
Note: the funds you submit will go to the materials budget of the library you designate.
Monetary Donations to PVL
Are you interested in donating to the Perkiomen Valley Library, a 501c3 nonprofit?  Your tax-deductible donations can be mailed to the Perkiomen Valley Library, ATTN: Treasurer, 290 Second Street, Schwenksville, PA 19473.
Thank you for your support.