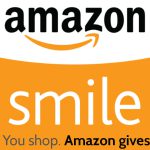 Donations can be made while you are shopping year-round!  Log into Amazon's Smile program and designate Perkiomen Valley Library, Inc as your charity.  A small portion of your purchase will be donated to PVL without any extra cost to you!  Check it out at
smile.amazon.com/ch/23-7206224

ONLINE DONATIONS CAN BE MADE AT:
PayPal



Does your employer have a matching gifts program?
Increase the impact of your gift with a matching contribution from your employer. Check with your employer to see whether they match charitable contributions. If they do, you can double or even triple the value of your gift, and further support the Library's mission.   It's easy! 

Obtain instructions from your employer about how to participate in their matching gifts program.

Make your donation to Perkiomen Valley Library by check or PayPal
Complete your employer's matching gifts request form and send a completed copy to:  Perkiomen Valley Library, 290 Second Street, Schwenksville, PA 19473
If needed to designate Perkiomen Valley Library as your donor organization, please use identification #23-7206224.
Questions? Please call 610.287.8360 for assistance.
BOOK DONATIONS ARE ACCEPTED ON THE 1ST TUESDAY EACH MONTH, 5-7 PM.  USE THE AUDITORIUM ENTRANCE ON CHURCH STREET.
1) Click here and print out the form.
2) Fill in all the necessary information.
3) Mail the form and a check to Montgomery County – Norristown Public Library
Note: the funds you submit will go to the materials budget of the library you designate.
Monetary Donations to PVL


Are you interested in donating to the Perkiomen Valley Library, a 501c3 nonprofit?  Your tax-deductible donations can be mailed to the Perkiomen Valley Library, ATTN: Treasurer, 290 Second Street, Schwenksville, PA 19473.
Thank you for your support.