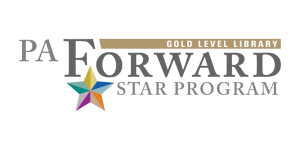 MASKS ARE WELCOME
LIBRARY HOURS
EFFECTIVE 2023
MONDAY      10 AM – 8 PM
TUESDAY     10 AM –  8 PM
WEDNESDAY     10 AM –  5 PM
THURSDAY      12 PM – 8 PM
FRIDAY     10 AM – 5 PM
SATURDAY   10 AM – 2 PM
CONTACTLESS PICKUPS are available during open hours. CALL 610-287-8360 TO SCHEDULE A PICKUP
 Items may be returned to the checkout desk during OPEN hours and in the book drop next to the front door during CLOSED hours.
NOTE: The book drop is for library materials only.  Please remove items from bags before placing them in the blue box.
DO NOT place donation books in the book drop.
BOOK DONATIONS WILL BE ACCEPTED THE 1ST TUESDAY OF THE MONTH, 5-7 PM.  USE THE AUDITORIUM ENTRANCE.
Other times by appointment only.